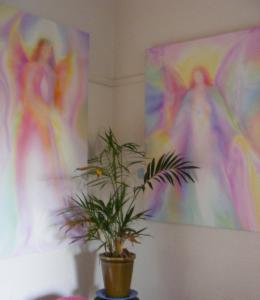 Since the beginning of time art has been of spiritual significance and was often thought to have magical properties. Quantum physics explains that we are all pure energy vibrating at different rates, and many medical scientists have documented that both thoughts and feelings have an enormous effect on our overall wellbeing. They now recognize that inspirational art and music have therapeutic effects.
Angel Paintings to Uplift Energies

My Angel Paintings exude the energy of deep peace and harmony to lift the vibration, and to activate the connection to the Higher Self and to the Angelic Realms. These Energy Paintings may be used to lift and clear the energy vibration wherever they are placed. They amplify healing and provide Spiritual Protection, helping to dissipate fears and anxiety.

Angel Art to Enhance Healing

Many of my Angel paintings now hang in the healing rooms of many health professionals and the results have been extraordinary, they seem to enhance the healing experience for both the healer and client. Just sitting with the Angel paintings is a deeply meditative and healing experience.