May 22nd, 2012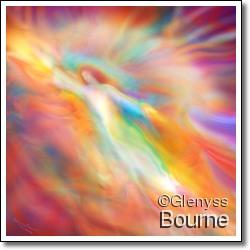 Experience the Love & Grace of the Angels! This Angelic meditation video invokes the presence of the Angels and Archangels and helps you to connect with the Angelic Realms and the Angel within.
Many thanks to David Paul for the use of his beautiful Spiritual music from his CD "Window to Infinity". For more information about David's music please go to
www.musicbydavidpaul.com
The paintings of Angels and Archangels for Meditation and Inspiration are available at my ebay store www.amazingAngelart.com
November 22nd, 2011
This is a new Relaxation video I was guided to make, featuring my Angel Paintings, and beautiful relaxing high vibrational relaxing music. Sit back, let go of the "real world" and take a relaxing trip to the Angelic Realms.


A longer version of this video is available from my ebay store
July 22nd, 2010
I have just finished making this relaxing video
with the help of my Angelic Guides. Take a few minutes to sit back,
relax with the Angels and let them transport you to the to the Heavenly
Realms ♥ Glenyss


September 1st, 2009
This is my first ever video, inspired and guided by the Angels; and including the healing Sanskrit mantra Om Namah Shivaya. It is a deep relaxation meditation. Take five minutes out of your busy day to relax and connect with your Spirit!.


.
All of my paintings are divinely inspired and the music on the video was given to me about fifteen years ago, just after I became a Reiki Master. Little did I know that I would use it in a visual meditation video!...Divine Guidance rocks!

Angel Blessings
Glenyss

April 3rd, 2009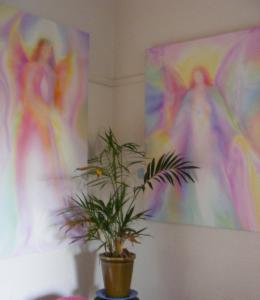 Since the beginning of time art has been of spiritual significance and was often thought to have magical properties. Quantum physics explains that we are all pure energy vibrating at different rates, and many medical scientists have documented that both thoughts and feelings have an enormous effect on our overall wellbeing. They now recognize that inspirational art and music have therapeutic effects.
Angel Paintings to Uplift Energies

My Angel Paintings exude the energy of deep peace and harmony to lift the vibration, and to activate the connection to the Higher Self and to the Angelic Realms. These Energy Paintings may be used to lift and clear the energy vibration wherever they are placed. They amplify healing and provide Spiritual Protection, helping to dissipate fears and anxiety.

Angel Art to Enhance Healing

Many of my Angel paintings now hang in the healing rooms of many health professionals and the results have been extraordinary, they seem to enhance the healing experience for both the healer and client. Just sitting with the Angel paintings is a deeply meditative and healing experience.
April 2nd, 2009

This is the story about how I was guided to paint Archangel Michael.
I had been doing energy paintings of Angels for many years, and it has always been a meditative and intuitive process for me. I was feeling attracted to the idea of painting Archangels and was waiting for inspiration

The inspiration came in a very different way from usual. through my daughter who is an intuitive healer and works with the Angels.
This is the story of how it happenned in her own words

"I am a healer and I work with Glenyss with Angels.

One day I was healing a friend with the help of another person. This is the first time that I can recall ever seeing an Angel infront of my eyes actually in the room. I have been able to feel their presence and hear them, maybe caught glimpses of light.

I remember calling in more protection for my friend. The assistant in the room also felt his presence but I was busy watching him come into the room. He was HUGE he had to shrink down so much just to fit into the room which had quite high ceilings. I knew who he was straight away as I had called upon Archangel Michael and I asked him in my mind is this you and are these the right colours I am seeing and he said yes.

He had huge golden wings which were just like pure gold and his wings seemed to be able to move down a bit like an elevator every which way. They moved along the healing table and wrapped my friend up like a cocoon only leaving her face out and covering her from head to toe. It is at this time that my friend started to let her emotions out.

I just watched him in awe. He told me to make sure that I told Glenyss what he looked like and was very insistant on getting the colours right. I did this and Glenyss painted him.

He was happy with the energy connection of this painting to him and was quite particular in how it was done. He told me that many people say that he is really blue and he is not blue. This confuses the energy connection to him and often calls on others. He told me that to be sure you are only connected to the "True Light", this is how you know you are connected to the highest possible place with no interference. I often work very closely with Archangel Michael."

My daughter and I sat down together and I painted Archangek Michael under her directions; she guided me with regard to his colours and the shape of the wings and his size. Then my intuition kicked in, and I was able to tune into him and complete the painting under his guidance.
I
February 28th, 2009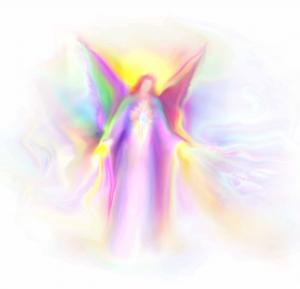 Angels are Real!

I am known to many as "The Angel Lady" or "The Angel Whisperer". I have spoken with, been guided and healed by Angels; and I PAINT Angels. I not only been truly touched by an Angel - I have been touched by hundreds of Angels; and I am blessed to have many clairvoyant friends who have confirmed to me that the Angels I paint are very close to their own perceptions of Angels. Many of them use my paintings to uplift the energy in their healing rooms.

Words alone cannot describe the feelings and inner knowings that you experience when you encounter an Angel.

I have just set up a new blog at www.amazingangelstories.com where all of you who have had experiences with Angels can share these with others.
You ar invited to add your own thoughts and tell us of any close encounters that you have had with your Guardian Angels.

Angel Blessings to You
Glenyss